Welcome To
St. Aloysius Catholic Church
---
FR. DAVIS - FAREWELL LETTER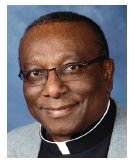 "…Let us go on to the neighboring towns so I can preach there also; for that is why I have been sent". Mark 1:38

My beloved brothers and sisters in Christ, with these assuring words from our Lord and master Jesus himself, I feel in my heart that I have to especially thank God, who guides and builds up the Church, and plants His Word and thus nourishes the faith in His People. Indeed, I thank the Lord who abounds with love, grace, and plenteous mercy more than we can ever imagine! His grace has made this day possible considering that his mercies are new every morning!

My dearly beloved Parishioners, almost 5 years ago, when I accepted the appointment of Priest Administrator, for St. Aloysius Parish-Buckley, from our former Archbishop Peter J. Sartain, to take on the Pastoral Ministry, the words that resounded in my heart and mind were: "Lord, what do You ask of me? It is a great weight that You are placing on my shoulders but, if You ask it of me, I will cast my nets at your command, confident that You will guide me, even with all my weaknesses".

Yet as the Lord assures me that, "Without me you can do nothing…" (Jn. 15:5), He has been close to me, I have felt His presence every day. It has been a stretch of the Church's path that has had moments of joy and light, but also difficult and trying moments, during which I felt like St. Peter and the Apostles in the boat on the Sea of Galilee. The Lord has given us many days of sunshine and light breezes, days when the fishing was plentiful, but also times when the water was rough and the winds against us, just as throughout the whole history of the Church, when the Lord seemed to be sleeping. But I always knew that the Lord is in that boat and I always knew that the boat of the Church is not mine, not ours, but is His. And the Lord will not let it sink. He is the one who steers her, of course also through those He has chosen, because that is how He wanted it. This was and is a certainty that nothing can destroy us, for the battle is the Lord's!!!  And that is why my heart today is filled with gratitude and thanks to God because He never left—the whole Parish or me—without His consolation, His light, or His love.

However, it is not only God who I wish to thank at this time, but all of you my dearly beloved people of God who have supported me in diverse ways in my Priestly ministry all these years I have served you. Indeed, I cannot find words good enough to express my profound gratitude and thanks to you all. In short, the Lord placed at my side so many people who, with generosity and love for God and the Church, have helped me, and been close to me, as a servant of the Lord. And I also thank each and every one of you for the respect and understanding with which you have received and accepted me to work with you as a dynamic Christian Community. At this juncture, I ask you to remember me to God, and above all to pray for my new Successor, Fr. Anh Tran. May the Lord accompany him with the light and strength of His Spirit, to take the Parish to greater heights. Please accord him your prayers and maximum support.

As I leave now, as Pastor, to tend my new flock in St. Barbara Parish-Black Diamond, I would like to invite everyone to renew a firm trust in the Lord. I would like that we all entrust ourselves as children to the arms of God and rest assured that those arms support us to walk every day, even in times of struggle.

Dear friends, always remember that, God guides His Church, always sustaining her even and especially in difficult times. Therefore, let us never lose this vision of faith, which is the only true vision of the path of the Church and of the world. In our hearts, may there always be the joyous certainty that the Lord is beside us, that He does not abandon us, that He is near and embraces us with His love.

Thank you and God bless you all in His Vineyard!
---
Indulge in The Divine Mercy
The Divine Mercy Message and Devotion
The message of The Divine Mercy is simple. It is that God loves us – all of us. And, He wants us to recognize that His mercy is greater than our sins, so that we will call upon Him with trust, receive His mercy, and let it flow through us to others. Thus, all will come to share His joy.

The Divine Mercy message is one we can call to mind simply by remembering ABC:
  A - Ask for His Mercy. God wants us to approach Him in prayer constantly, repenting of our sins and asking Him to pour His mercy out upon us and upon the whole world.
  B - Be merciful. God wants us to receive His mercy and let it flow through us to others. He wants us to extend love and forgiveness to others just as He does to us.
  C - Completely trust in Jesus. God wants us to know that all the graces of His mercy can only be received by our trust. The more we open the door of our hearts and lives to Him with trust, the more we can receive. Learn more here...

Learn more about Divine Mercy here...

---
WELCOME TO MASS - NO NEED TO REGISTER!
"And they recounted to them how he was made known to them in the Breaking of the Bread." (Luke 24: 35)
The Eucharist, the Gift of God, is our nourishment, sustenance, salvation – for in receiving the Eucharist we receive the sacramental presence of Jesus, Body and Blood, Soul and Divinity. And our participation in the Eucharistic Liturgy is a participation in the life of the Body of Christ, which we are.
Gratefully we can celebrate the Mass together again! With COVID restrictions in place, St. Aloysius does NOT require registration for weekend masses. All guidelines will continue such as church capacity, mask required, spacing during communion. The social distancing protocol will remain with every other pew roped off. Please come early. Our mass times are 5:00pm Saturday, 8:30 and 10:30am Sunday.
If you have any pastoral needs at home, including Anointing of the Sick, please contact Fr. Clarence Jones at 253-263-0833 so that he can assist you. 
The obligation to attend Sunday Mass and Holy Days of Obligation continues to be suspended as long as the pandemic continues.
NOTE: After the CDC announcement this week that vaccinated people may remove their masks in certain settings, some questions have arisen already regarding the impacts on our Covid-19 protocols at mass. At this time, the Archdiocese of Seattle is reviewing the new guidance issued by Governor Inslee for religious organizations and is formulating directives for parishes. While we wait not only for the new mandates from the Archdiocese, we will continue to adhere to the existing Covid-19 protocols that are in place for our parish. As soon as there is a change in those policies, a notification will be sent with any updates.

Thank you for your continued care and attention to these protocols as we strive to make our parish a safe and welcoming spiritual home for everyone in our community. We look forward with great anticipation to worshiping with you at our upcoming Ascension and Pentecost masses!

---
DEVOTION OF THE MONTH - JUNE
The Month of the Sacred Heart

Devotion to the Sacred Heart of Jesus is one of the most popular Catholic devotions. Although it was beloved in previous centuries, Jesus appeared to St. Margaret Mary Alacoque in 1673, showing her a vision of the now-famous image of His Sacred Heart, surrounded by flames. He said to her: "My Heart is so full of love for men that It can no longer contain the flames of Its burning love. I must discover to men the treasures of My Heart and save them from perdition." She was given the special mission to spread devotion to His Sacred Heart throughout the Church. Jesus gave St. Margaret Mary many promises associated with this devotion, and requested that a feast day in honor of His Sacred Heart be instituted on the Friday after the Octave of Corpus Christi. In 1856, the Feast of the Sacred Heart was spread to the Universal Church, and in 1899 Pope Leo XIII solemnly consecrated all mankind to the Sacred Heart of Jesus, calling it "the great act" of his pontificate.
Pray a novena to the Sacred Heart of Jesus
---
YEAR OF ST. JOSEPH - 2021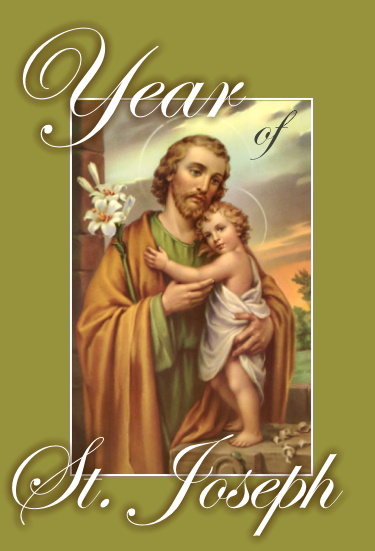 Year of St. Joseph 2021 - Solemnity is on March 19th

Pope Francis has proclaimed this year a "Year of St. Joseph".
With the Apostolic Letter "Patris corde" ("With a Father's Heart"), Pope Francis recalls the 150th anniversary of the declaration of Saint Joseph as Patron of the Universal Church. To mark the occasion, the Holy Father has proclaimed a "Year of St. Joseph" to conclude on December 8, 2021.
Mass for the Solemnity of St. Joseph
Celebrate the Solemnity of St. Joseph by joining us for Mass, presided by Archbishop Etienne.
Friday, March 19 at 8:00 am at St. James Cathedral in Seattle.
No registration required.
Mass will also be livestreamed @Archdioceseofseattle on Facebook or Vimeo.

Liturgical Resources
Below are some liturgical resources from the Archdiocese of Seattle that we hope you will find helpful for you and your families to celebrate this year dedicated to a loving father.
     Devotion for the Year of St. Joseph
     Quotes about St. Joseph
     The Joyful Mysteries with St. Joseph

Novena to St. Joseph
Join in a novena of prayer to St. Joseph beginning March 10th as we prepare to celebrate the Solemnity of St. Joseph on March 19th.
This novena prayer may be used at parishes, schools, and homes.
Be sure to visit the new website for the Archdiocese of Seattle for a special section on the Year of St. Joseph.
---
DON'T SAY GOD IS SILENT WHEN YOUR BIBLE IS CLOSED

The original author of this quote is unknown, but it is exactly right. The Bible is God's Word. Many Catholics know they ought to read the Bible more often, but struggle to understand it.
The Bible in a Year is one of the newest Ascension podcasts! You can access all the Bible in a Year episodes, so far, at this link.
If you want to save time, you can always bookmark this page on your computer for quick access to the podcast.

---
UPDATE YOUR EMERGENCY CONTACT INFO
*** During an emergency or crisis (like we are having right now with the Covid-19 crisis) we would like to be able to communicate with our parishioners. Please take this opportunity to let us know how you would like to be contacted by going here. ***

DAILY MASS ALWAYS AVAILABLE!
---
PLEASE CONTINUE TO PRAY!
Please continue praying the rosary during these uncertain times as we continue to seek the intercession of Our Lady of Seattle for protection from this pandemic.

Prayer to Our Lady of Seattle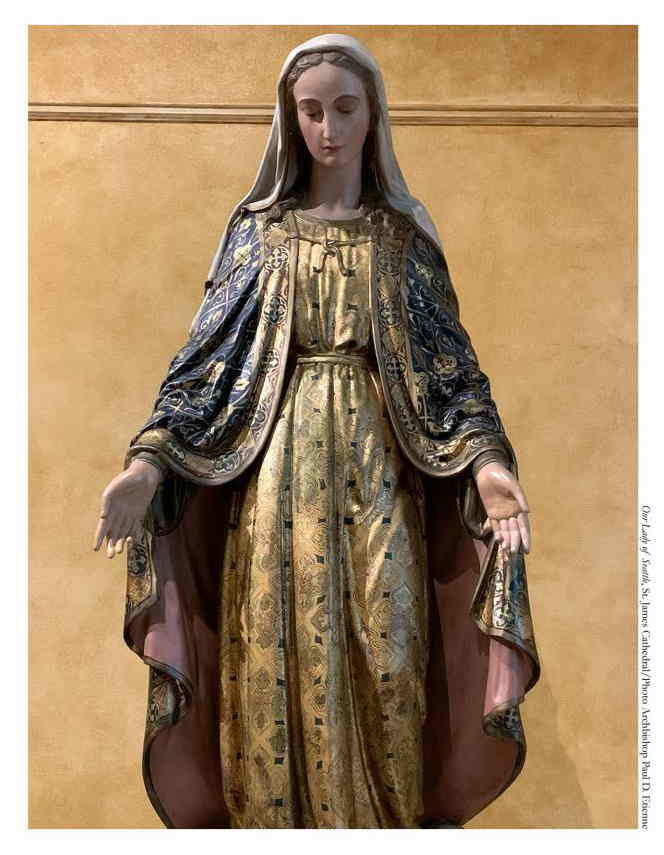 Holy Mary, we come before you as spiritual children in great need, seeking your intercession, and asking that your mantle of love surround us to console, protect, and lead us to your son Jesus. 
We entrust all of God's family, especially the church in Western Washington, into your immaculate hands. With your son Jesus' gentle power you can undo any knot in our church, and in the lives of believers who entrust themselves to your care. 
Today I especially entrust to you [mention request/Coronavirus here], and I ask that --through your intercession, and that of St. James, our guardian angels, and the faithful in our archdiocese -- we may be free from every spiritual and temporal ill, and be safely led to encounter your son's merciful, sacred heart. 
Our Lady of Seattle, Undoer of Knots pray for us!
PRAY THE ROSARY DAILY!
Wherever you are, you can pray the rosary in communion with millions of Catholics all over the world. You can play these directly from our website. These are just a sample of what you can find on YouTube to help you pray the rosary...

RESOURCES FOR SPIRITUAL FOOD
_
---