Welcome To
St. Aloysius Catholic Church
---
WELCOME TO IN PERSON MASS!
WE LOOK FORWARD TO SEEING YOU!

MASS TIMES are Saturday 5:00pm and Sunday 10:30am only at St. Aloysius.
Ss. Cosmas and Damian, in Orting, the mass time is Sunday 8:30am.

In response to the recent Covid-19 guidelines released by the Archdiocese, we have made several changes to our mass guidelines:
Seating markers on both sides are for social distancing. The socially distanced section will be reserved for those who prefer to maintain the 6 foot distancing at this time. Please sit wherever you feel most comfortable and continue to respect the space around others.
    -Registration is not required
    -Unfortunately facial coverings are required
    -Holy water has returned to the entrance and in the font on the sanctuary. There are extra holy water bottles available.
    -Physical distancing will no longer be monitored by volunteers
    -Mass cards are in the pews.
    -The Holy Eucharist will be placed in the hand or on the tongue.
    -Sign of Peace is now announced by Father, however shaking of hands or hugging should only be with family members. You are encouraged to nod and not verbalize " Peace be with you".
    -Cleaning and sanitizing of common use areas are returning to pre-Covid practices.
Please note that the following mass protocols remain unchanged:
    -Hand sanitizer will remain available in the pews.
    -Parishioners need to self-screen before attending mass, and must stay home if experiencing any of the symptoms listed. If you or anyone in your household has ANY symptoms of illness including: cough, congestion, sniffle, sore throat, fever, body aches, etc. we ask that you please STAY HOME.  Thank you for helping protect each other.
     -Congregational singing is still not allowed.
     -Precious Blood is not yet allowed.
Thank you for your continuing cooperation and flexibility as we navigate this process of returning to normalcy. We look forward to celebrating mass with you! While we are eager to welcome people back to in-person Mass, safety is paramount.


---
INDOOR MASK MANDATE
Indoor Mask Mandate: This universal indoor mask mandate will take effect Monday, August 23. This means: 

All employees, volunteers and visitors must wear a mask while inside any building on a parish campus.
All parishioners must wear a mask during all indoor Masses.
 NO CATHOLIC RELIGIOUS EXEMPTION
 For Catholics, there is no religious ground for refusing to receive the COVID-19 vaccine. The Holy Father and the Congregation for the Doctrine of the Faith have clearly stated that it is morally acceptable to receive the existing COVID-19 vaccines. Beyond that, the Holy Father has made it clear that receiving the vaccine is in keeping with our Catholic faith. 
Archbishop Etienne sent a letter to all parish leaders, which read:
"Regarding religious exemptions to any COVID-19 vaccine mandate, the Archdiocese of Seattle is instructing its clergy not to provide or sign documents claiming a religious exemption. Similarly, it is not our place to sign any exemptions based on personal conscience. That is between each individual and their employer."
CONSCIENCE EXEMPTION CLARIFICATION
The Church has always upheld the role of conscience. Only the individual can speak on their own behalf regarding their conscience. 
People may have reasons of personal conscience for not wanting to receive the vaccine. If they refuse for personal reasons, they must be willing to accept the consequences of their decision. Matters of conscience are between each individual and their employer or whatever institution they are answering to. 
For the COVID-19 vaccine, the governor announced that personal and philosophical exemptions are not allowed.  
---
REMEMBERING THOSE OF 9/11
---
Indulge in The Divine Mercy
The Divine Mercy Message and Devotion
The message of The Divine Mercy is simple. It is that God loves us – all of us. And, He wants us to recognize that His mercy is greater than our sins, so that we will call upon Him with trust, receive His mercy, and let it flow through us to others. Thus, all will come to share His joy.

The Divine Mercy message is one we can call to mind simply by remembering ABC:
  A - Ask for His Mercy. God wants us to approach Him in prayer constantly, repenting of our sins and asking Him to pour His mercy out upon us and upon the whole world.
  B - Be merciful. God wants us to receive His mercy and let it flow through us to others. He wants us to extend love and forgiveness to others just as He does to us.
  C - Completely trust in Jesus. God wants us to know that all the graces of His mercy can only be received by our trust. The more we open the door of our hearts and lives to Him with trust, the more we can receive. Learn more here...

Learn more about Divine Mercy here...

---
DEVOTION OF THE MONTH - SEPTEMBER

The Month of Our Lady of Sorrows

The month of September is dedicated to the Our Lady of Sorrows. During this month of we are drawn into the spiritual martyrdom that the Blessed Mother experienced during the physical martyrdom of Jesus. The evils of sin are manifest but conquered through intense suffering. The Blessed Mother's tears of anguish reflect God's washing away of sin. If you haven't ever prayed the Seven Sorrows chaplet, you might want to consider exploring this devotion.
"Then Simeon blessed them and said to his mother Mary, "This child is destined for the falling and the rising of many in Israel, and to be a sign that will be opposed so that the inner thoughts of many will be revealed—and a sword will pierce your own soul too." Luke 2:34-35
---
YEAR OF ST. JOSEPH - 2021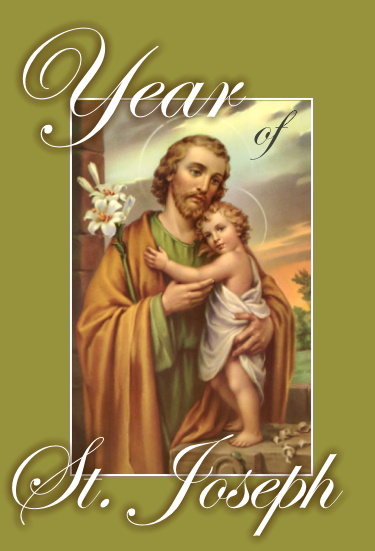 Year of St. Joseph 2021 - Solemnity is on March 19th

Pope Francis has proclaimed this year a "Year of St. Joseph".
With the Apostolic Letter "Patris corde" ("With a Father's Heart"), Pope Francis recalls the 150th anniversary of the declaration of Saint Joseph as Patron of the Universal Church. To mark the occasion, the Holy Father has proclaimed a "Year of St. Joseph" to conclude on December 8, 2021.
Mass for the Solemnity of St. Joseph
Celebrate the Solemnity of St. Joseph by joining us for Mass, presided by Archbishop Etienne.
Friday, March 19 at 8:00 am at St. James Cathedral in Seattle.
No registration required.
Mass will also be livestreamed @Archdioceseofseattle on Facebook or Vimeo.

Liturgical Resources
Below are some liturgical resources from the Archdiocese of Seattle that we hope you will find helpful for you and your families to celebrate this year dedicated to a loving father.
     Devotion for the Year of St. Joseph
     Quotes about St. Joseph
     The Joyful Mysteries with St. Joseph

Novena to St. Joseph
Join in a novena of prayer to St. Joseph beginning March 10th as we prepare to celebrate the Solemnity of St. Joseph on March 19th.
This novena prayer may be used at parishes, schools, and homes.
Be sure to visit the new website for the Archdiocese of Seattle for a special section on the Year of St. Joseph.
Go here to learn the 5 Spiritual Benefits from the Year of St. Joseph
GO TO ST. JOSEPH!
Article from Northwest Catholic by: Corinnna Laughlin and Jean Parietti
Western Washington loves St. Joseph! More parishes in the Archdiocese of Seattle are named for St. Joseph than for any other saint — except Mary. From Ferndale to Vancouver, from Sequim to Yacolt, a dozen parishes and missions are named in honor of the saint Pope Francis calls the guardian of Jesus and Mary.
During this Year of St. Joseph, you can make a pilgrimage to one or more of these local churches, pray the St. Joseph prayer and then explore nearby activities to create a fun summer day or weekend trip with family or friends. (Because of COVID, check to make sure the attractions are open.) Please go here to find out more...
THE YEAR OF ST. JOSEPH PRAYER
To you, O blessed Joseph (Ad te, beate Ioseph)
To you, O blessed Joseph, do we come in our afflictions, and having implored the help of your most holy Spouse, we confidently invoke your patronage also.
Through that charity which bound you to the Immaculate Virgin Mother of God and through the paternal love with which you embraced the Child Jesus, we humbly beg you graciously to regard the inheritance which Jesus Christ has purchased by his Blood, and with your power and strength to aid us in our necessities.
O most watchful guardian of the Holy Family, defend the chosen children of Jesus Christ; O most loving father, ward off from us every contagion of error and corrupting influence; O our most mighty protector, be kind to us and from heaven assist us in our struggle with the power of darkness.
As once you rescued the Child Jesus from deadly peril, so now protect God's Holy Church from the snares of the enemy and from all adversity; shield, too, each one of us by your constant protection, so that, supported by your example and your aid, we may be able to live piously, to die in holiness, and to obtain eternal happiness in heaven. Amen.

---
DON'T SAY GOD IS SILENT WHEN YOUR BIBLE IS CLOSED

The original author of this quote is unknown, but it is exactly right. The Bible is God's Word. Many Catholics know they ought to read the Bible more often, but struggle to understand it.
The Bible in a Year is one of the newest Ascension podcasts! You can access all the Bible in a Year episodes, so far, at this link.
If you want to save time, you can always bookmark this page on your computer for quick access to the podcast.

---
UPDATE YOUR EMERGENCY CONTACT INFO
*** During an emergency or crisis (like we are having right now with the Covid-19 crisis) we would like to be able to communicate with our parishioners. Please take this opportunity to let us know how you would like to be contacted by going here. ***

DAILY MASS ALWAYS AVAILABLE!
---
PLEASE CONTINUE TO PRAY!
Please continue praying the rosary during these uncertain times as we continue to seek the intercession of Our Lady of Seattle for protection from this pandemic.

Prayer to Our Lady of Seattle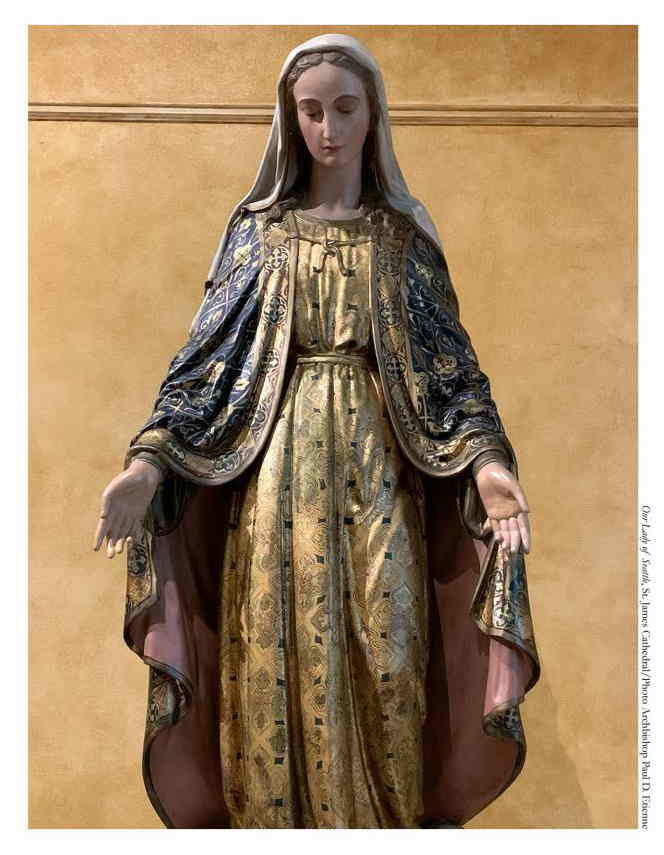 Holy Mary, we come before you as spiritual children in great need, seeking your intercession, and asking that your mantle of love surround us to console, protect, and lead us to your son Jesus. 
We entrust all of God's family, especially the church in Western Washington, into your immaculate hands. With your son Jesus' gentle power you can undo any knot in our church, and in the lives of believers who entrust themselves to your care. 
Today I especially entrust to you [mention request/Coronavirus here], and I ask that --through your intercession, and that of St. James, our guardian angels, and the faithful in our archdiocese -- we may be free from every spiritual and temporal ill, and be safely led to encounter your son's merciful, sacred heart. 
Our Lady of Seattle, Undoer of Knots pray for us!
PRAY THE ROSARY DAILY!
Wherever you are, you can pray the rosary in communion with millions of Catholics all over the world. You can play these directly from our website. These are just a sample of what you can find on YouTube to help you pray the rosary...

RESOURCES FOR SPIRITUAL FOOD
_
---