Our celebration of the Holy Eucharist has increased! Sunday October 18th we will resume the 8:30am mass. You will be required to register; our maximum attendance is 25% or 30 parishioners.
We will continue with daily mass, Tuesday through Friday at 8:30am and on the weekends 5:00pm Saturday, 10:30am Sunday.

Please consider volunteering for Greeting and Cleaning at each of these masses. We can offer all these masses as long as we have enough trained volunteers to meet the Archdiocese Covid guidelines.

As a reminder, all Catholics are dispensed from the Sunday Mass obligation indefinitely.
Each Sunday at 10:30am, Fr. Clarence celebrates mass live on Zoom. If you need the link, please email the office.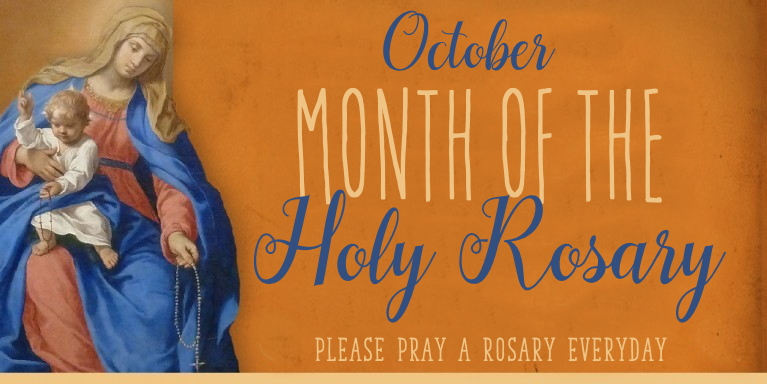 Q: Why is October referred to as the Month of the Rosary?
A: The answer to your question is relatively simple but needs a historical context in order to be fully appreciated. The short answer is this: October is dedicated as the Month of the Rosary because we celebrate the memorial of Our Lady of the Rosary each year on October 7th.
Read the full article in the the NW Catholic here, written by Bishop Mueggenborg.
There are many videos on YouTube that are helpful for you in praying the rosary.

In the recent newsletter from the Washington State Catholic Conference, you will find useful information on voting in 2020, including:

 - Voter Registration and Election Day Reminders
 - What Does the Church Say About Public Policy Issues?
 - Referendum 90: "Check Reject"
 - Voter Registration and Education Information at Parishes
 - COVID-19 Relief Legislation
 - USCCB Lauds Executive Order Protecting Vulnerable Newborn and Infant Children and so much more...

Go here to view previous WSCC bulletins

Four bishop chairmen of committees for the U.S. Conference of Catholic Bishops (USCCB) have urged Dr. Stephen M. Hahn, Commissioner of the U.S. Food and Drug Administration (FDA), to ensure that vaccines for the Coronavirus Disease 2019 (COVID-19) are developed ethically and are free from any connection to the exploitation of abortion.