Welcome To
St. Aloysius Catholic Church
---
WELCOME TO IN PERSON MASS!
We Look Forward to Seeing you!

MASS TIMES at St. Aloysius are Saturday 4:00pm and Sunday 10:30am
MASS TIME at Ss. Cosmas & Damian, in Orting is Sunday 8:30am
---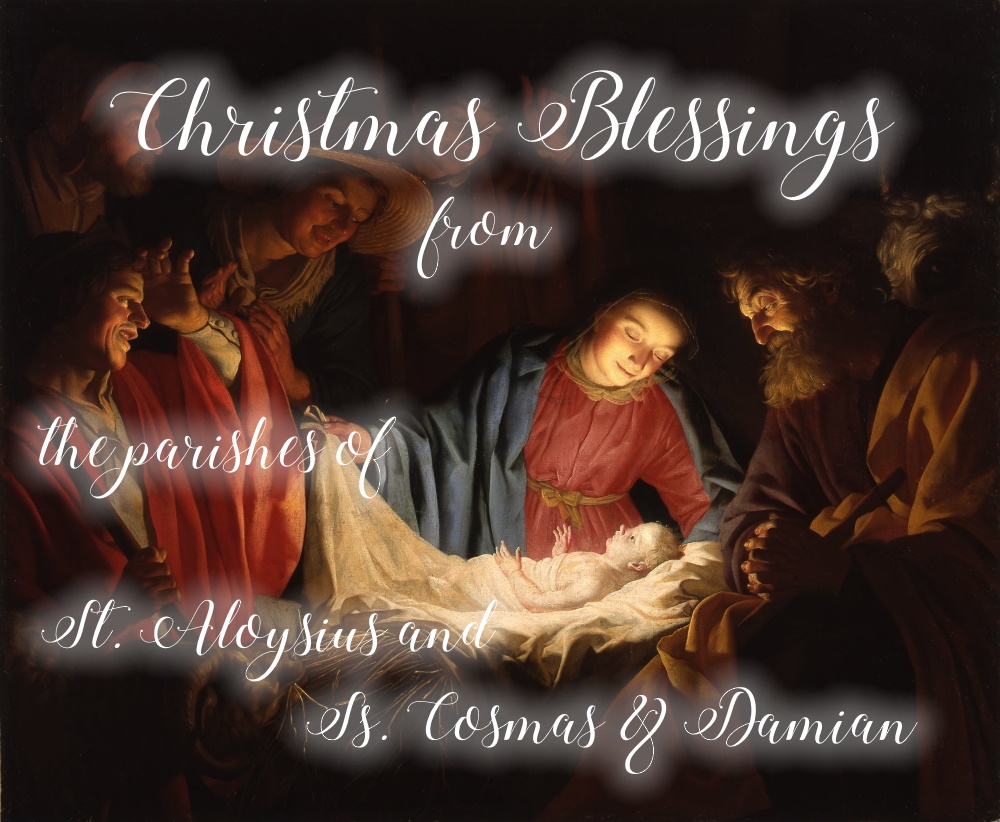 ---
CHRISTMAS SEASON HAS JUST BEGUN!

Christmas isn't over after Christmas Day! Join us as we joyfully celebrate the Christmas season from December 25 to January 9, the Feast of the Baptism of the Lord. Go here to the Archdiocese of Seattle Christmas Season web page. 

Celebrate With Joy!
Watch Archbishop Etienne's Christmas video. To read the archbishop's Christmas homily, click here. Continue celebrating the joy and hope of the incarnation of the Son of God all throughout the Christmas season!
---
SUNDAY MASS OBLIGATION REINSTATED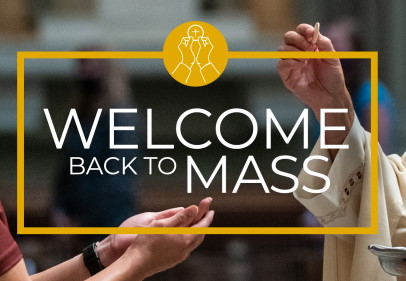 From the Archbishop's Office: Dispensation is to be lifted December 8. Archbishop Etienne invites you to come back to Mass. "Make the Lord's Day a true celebration of the Resurrection, and a great celebration of being renewed in his life, mercy and love."
• Welcome Back to Mass Webpage Visit and bookmark

---
REFRESHER COURSE ON THE MASS
Now that the dispensation for mass attendance is about to end, you may be in need of a refresher course about the Mass. Please watch Fr. Chris Alar explain the most powerful prayer on earth - The Mass, and you'll probably never miss Mass again!
---
CHRISTMAS - HOW TRADITIONS CAME TO BE
What is the true meaning of Christmas? Hear Fr. Chris Alar explain how we got the traditions of the Christmas tree, candles in windows, tinsel, the 12 days of Christmas, etc.

---
DEVOTION OF THE MONTH - JANUARY

The Month of The Holy Name of Jesus

The month of January is dedicated to the Holy Name of Jesus. "In the name of Jesus every knee should bow, of those that are in heaven, on earth and under the earth" (Phil 2:10). Christ's name is chosen in heaven, and the Angel Gabriel announces it when he informs the Blessed Virgin of the incarnation: "Behold thou shalt conceive in thy womb and shalt bring forth a son, and thou shalt call his name Jesus". It is a name that has marvelous implications, for it means "savior." The very name bespeaks the magnitude of His mission, His infinite love, a love that will cause Him to offer Himself up for us.
The name of Jesus is the sweetest of all names, and He who bears it is most worthy of all love. He who calls Jesus his friend can be assured that this friend is the most devoted and unselfish of all friends.
Jesus is our all. In His name we may pray to the Father with assurance of being heard. In His name the Church administers all her sacraments. In His name she offers all her prayers and blesses homes, the fields, and the sick. In the name of Jesus she casts out evil spirits, and at the hour of our death bids us, "Go forth, Christian soul." She assures us that whoever shall call upon this name will be saved. When our soul has departed this life to seek its eternal home, the Church asks in the name of Jesus, "Eternal rest give unto him, O Lord."
— Benedict Baur, O.S.B.
The first nine days of January fall during the liturgical season known as Christmas which is represented by the liturgical color white — the color of light, a symbol of joy, purity and innocence (absolute or restored). The remaining days of January are the beginning of liturgical season known as Tempus per Annum or Ordinary Time (formerly Time After Epiphany), which is represented by the liturgical color green. Green is a symbol of hope, as it is the color of the sprouting seed and arouses in the faithful the hope of reaping the eternal harvest of heaven, especially the hope of a glorious resurrection. The liturgical color green is worn during prayer of Offices and Masses of Ordinary Time.
Learn more from Catholic Culture here...
---
Feeling Lonely and Needing Prayers?

The coming holiday seasons can be difficult for many, but there is hope! Brother Paul is one of the many Intercessors who offers an ear and a prayer to countless people who call the Divine Mercy Intercessory Prayer Line. No prayer is too big or too small for our Lord. Let them pray with you.
Submit Your Prayer Intentions: https://www.marian.org/prayerline/
Support the Divine Mercy Intercessory Prayer Line: https://www.marian.org/prayerline/how...
---
Indulge in The Divine Mercy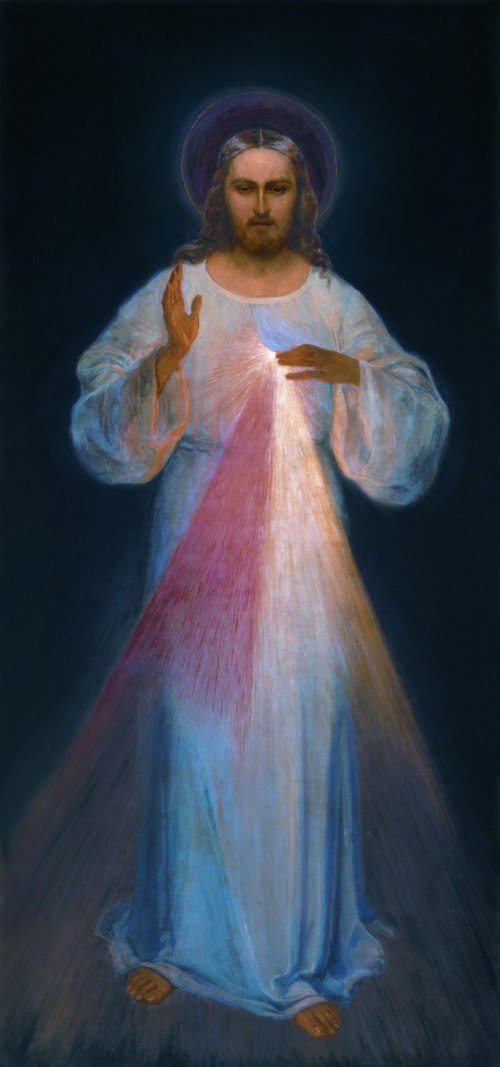 The Divine Mercy Message and Devotion
The message of The Divine Mercy is simple. It is that God loves us – all of us. And, He wants us to recognize that His mercy is greater than our sins, so that we will call upon Him with trust, receive His mercy, and let it flow through us to others. Thus, all will come to share His joy.

The Divine Mercy message is one we can call to mind simply by remembering ABC:
  A - Ask for His Mercy. God wants us to approach Him in prayer constantly, repenting of our sins and asking Him to pour His mercy out upon us and upon the whole world.
  B - Be merciful. God wants us to receive His mercy and let it flow through us to others. He wants us to extend love and forgiveness to others just as He does to us.
  C - Completely trust in Jesus. God wants us to know that all the graces of His mercy can only be received by our trust. The more we open the door of our hearts and lives to Him with trust, the more we can receive. Learn more here...

Learn more about Divine Mercy here...

---
UPDATE YOUR EMERGENCY CONTACT INFO
*** During an emergency or crisis (like we are having right now with the Covid-19 crisis) we would like to be able to communicate with our parishioners. Please take this opportunity to let us know how you would like to be contacted by going here. ***

DAILY MASS ALWAYS AVAILABLE!
---
PLEASE CONTINUE TO PRAY!
Please continue praying the rosary during these uncertain times as we continue to seek the intercession of Our Lady of Seattle for protection from this pandemic.

Prayer to Our Lady of Seattle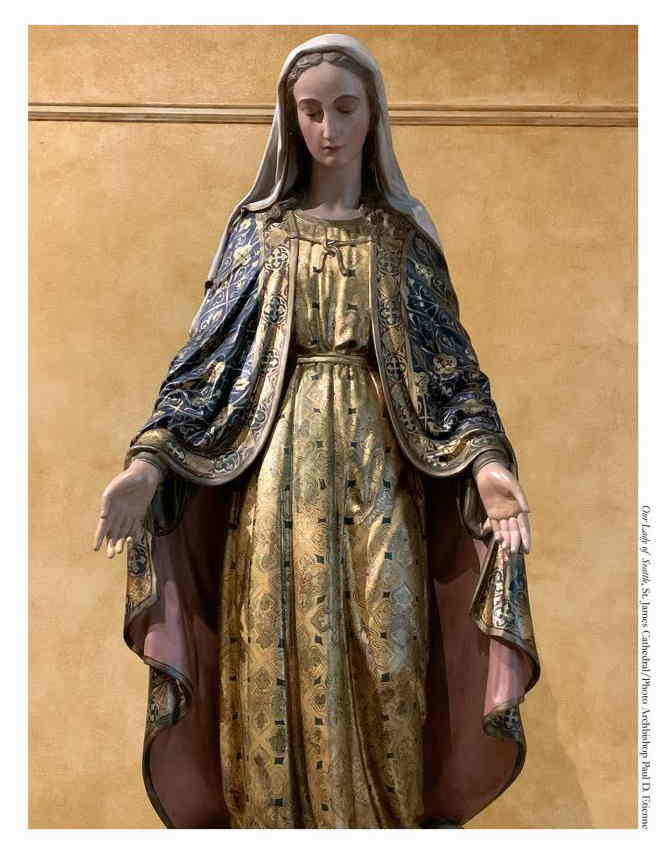 Holy Mary, we come before you as spiritual children in great need, seeking your intercession, and asking that your mantle of love surround us to console, protect, and lead us to your son Jesus. 
We entrust all of God's family, especially the church in Western Washington, into your immaculate hands. With your son Jesus' gentle power you can undo any knot in our church, and in the lives of believers who entrust themselves to your care. 
Today I especially entrust to you [mention request/Coronavirus here], and I ask that --through your intercession, and that of St. James, our guardian angels, and the faithful in our archdiocese -- we may be free from every spiritual and temporal ill, and be safely led to encounter your son's merciful, sacred heart. 
Our Lady of Seattle, Undoer of Knots pray for us!
PRAY THE ROSARY DAILY!
Wherever you are, you can pray the rosary in communion with millions of Catholics all over the world. You can play these directly from our website. These are just a sample of what you can find on YouTube to help you pray the rosary...

RESOURCES FOR SPIRITUAL FOOD
_
---