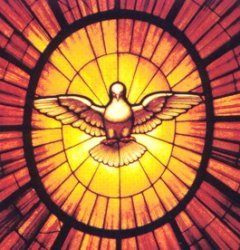 Start Date: Friday, May 22, 2020
End Date: Saturday, May 30, 2020
Feast Day: Sunday, May 31, 2020
Follow the example of the original "Novena" ("9 days") when the Apostles prayed in the 9 days leading up to a special outpouring of the Holy Spirit on Pentecost. Before Jesus ascended to heaven, He promised He wouldn't leave them alone (John 14:16). Once the Apostles received the gifts of the Holy Spirit, their grief was turned into joy (John 16:20) and they boldly proclaimed the mighty acts of God to people of every language (Acts 2:4).
Go here to pray the novena to the Holy Spirit daily...
The word in Greek, pentecostē, literally means the 50th.
Check out this YouTube clip with Dr. Brant Pitre on Pentecost and the impact it would have had on the first century audience who would've seen or read about the actions of the Holy Spirit.

A world struggling for air! An article by Fr. Andrew Clyne about Pentecost amid Covid-19
Bishop Mueggenborg on Ref 90
Bishop Mueggenborg explains why Catholics should sign petitions to repeal Referendum 90 and reject the new Comprehensive Sexual Health Education (CSHE) law. Watch the video here...

Four bishop chairmen of committees for the U.S. Conference of Catholic Bishops (USCCB) have urged Dr. Stephen M. Hahn, Commissioner of the U.S. Food and Drug Administration (FDA), to ensure that vaccines for the Coronavirus Disease 2019 (COVID-19) are developed ethically and are free from any connection to the exploitation of abortion.