---
MASS TIMES
St. Aloysius - Buckley
Saturday - 4:00pm
Sunday - 10:30am
Tue, Thur, Sat - 8:30am
---------------------------------
Ss. Cosmas & Damian - Orting
Sunday - 8:30am
Wed & Fri - 9:30am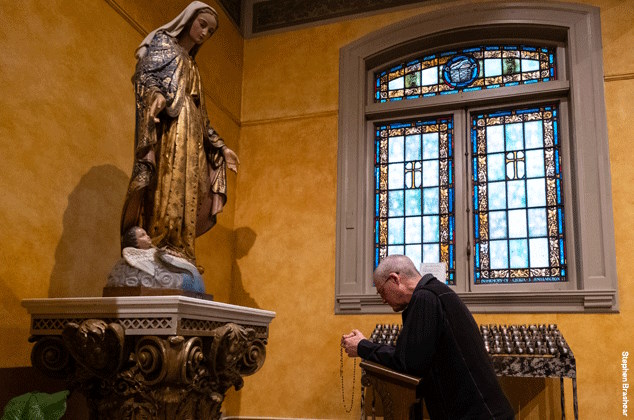 New! Read Archbishop Etienne's Partners in the Gospel Pastoral Letter
In Archbishop Etienne's new pastoral letter, Partners in the Gospel: A Pastoral Letter to the Priests and People of the Church in Western Washington, he addresses the changes in our archdiocese over the last 10 years, his vision for parish leadership and structure, and ways to measure parish health and vibrancy. Read the letter here...
Learn more about the Partner's In The Gospel here...

Please go here to to read the Parish Family Feedback Report
Month of the Immaculate Conception

The month of December is dedicated to the Immaculate Conception of the Blessed Virgin Mary.
"From all eternity God chose with infinite wisdom the woman who would be the Mother of His divine Son. To prepare for the Word Incarnate a spotless and holy tabernacle, God created Mary in grace and endowed her from the moment of her conception with all the perfections suited to her exalted dignity. St. Thomas teaches that through her intimacy with Christ, the principle of grace, she possessed beyond all creatures a fullness of divine life." — Liturgical Meditations, The Sisters of St. Dominic
This feast invites us to meditate on the virtue of purity. "Mary alone — 'our tainted nature's solitary boast'— never saw her soul's purity darkened with the dust of any stain, nor did she see in any part of her triumphal course toward heaven any sin or trace of worldliness. By a unique and singular privilege from God she was preserved from original sin from the first moment of her Immaculate Conception; by another privilege derived from the first, the Lord did not permit her ever to be stained even with those unavoidable failings of human weakness." — Luis M. Martinez
The Divine Mercy Message and Devotion
The message of The Divine Mercy is simple. It is that God loves us – all of us. And, He wants us to recognize that His mercy is greater than our sins, so that we will call upon Him with trust, receive His mercy, and let it flow through us to others. Thus, all will come to share His joy.

The Divine Mercy message is one we can call to mind simply by remembering ABC:
  A - Ask for His Mercy. God wants us to approach Him in prayer constantly, repenting of our sins and asking Him to pour His mercy out upon us and upon the whole world.
  B - Be merciful. God wants us to receive His mercy and let it flow through us to others. He wants us to extend love and forgiveness to others just as He does to us.
  C - Completely trust in Jesus. God wants us to know that all the graces of His mercy can only be received by our trust. The more we open the door of our hearts and lives to Him with trust, the more we can receive. Learn more here...