If you have a prayer request, please go here and it will be presented to the priest so he can remember your request in his private mass.

---
Mass at St. Aloysius
---

Join the 40 Days For Life and help save lives by praying for an end to abortion in your community September 23 - November 1, 2020.

---
Help Support A Missionary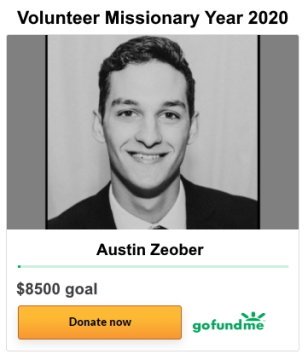 One of our parishioners is committing to a Volunteer Missionary Year. Please help support him. Read more here...

---
A CHALLENGE

RISE is a 30-day challenge for men who desire greater peace, balance, and fulfillment in their lives. It's for men who want to really live the beauty and power of the Gospel in their day-to-day lives—for men who rise up to the challenge of being the fathers, sons, brothers, and husbands they were meant to be.
Empowering you to live your very best life, visit RealLifeCatholic.com

---
Archbishop Etienne Blog
Preaching is a priority to Archbishop Etienne's episcopal ministry. His blog is an effort to engage and serve you, God's faithful people. Enjoy your visit! https://www.archbishopetienne.com/

Pray the Rosary with the Archdiocese of Seattle from Archdiocese of Seattle
---
FORMED.org
The Catholic Faith on Demand

(only works in Chrome, Firefox, MS Edge)
MONTH OF SEPTEMBER
OUR LADY OF SORROWS

SUGGESTIONS FOR THE WEEK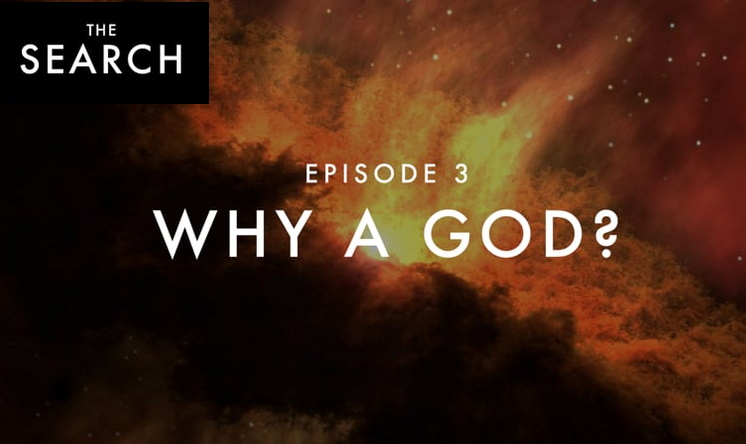 THE SEARCH / EPISODE 3 / WHY A GOD?
Today we seem to think we've moved beyond the idea of God, but this secular view of life is a very new and unusual idea to humanity. All through human history man has looked to something outside himself for the answers to life. Why have we given up on God? Do we think science has disproven Him? Do we think society is better off without him? We talk with astrophysicists, chemists, Harvard professors, and more to make the case that it's not only reasonable to believe in God, it's essential if you want to have a truly amazing life. Our souls seek their creator, and we'll never be truly happy unless we seek Him out. As St. Augustine famously said, "You have made us for Yourself O Lord, and our hearts are restless. until they rest in Thee."
Watch now...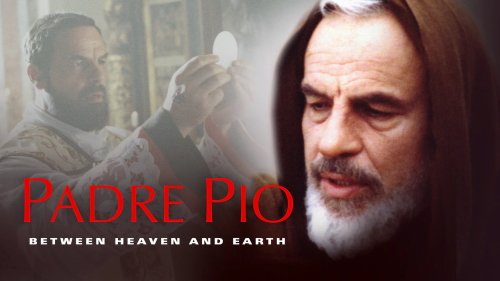 Padre Pio: Between Heaven and Earth
Based on the historical records and the personal testimony of his fellow friars, this is the amazing true story of the life of the famous stigmatic monk, St. Padre Pio, a contemporary saint who died in 1968. Blessed with incredible spiritual gifts, including healing, bi-location, reading of souls, and the stigmatic wounds, Padre Pio was a powerful witness for Christ, and a great spiritual guide to countless souls for over fifty years. Filmed on location in Italy, starring Michele Placido in a moving performance, this film tells the whole story of the beloved monk from San Giovanni Rotondo, a place where millions of pilgrims now annually visit Padre Pio's grave. Music by legendary music composer Ennio Morricone.
Watch now...

FORMED.org is a revolutionary online platform that provides access to the best Catholic audio talks, movies, ebooks, and video based studies from trusted providers like the Augustine Institute, Ignatius Press, Catholic Answers, the Knights of Columbus, St. Paul Center, Sophia Press and more!
We are excited to announce that our parish has subscribed to an exciting new online platform. Create a personal account and start enjoying the best Catholic content all in one place!  Catholic Content including movies, lectures, books children's' programming and more - and It's Free!
FORMED.org provides amazing content 24/7 for you to grow in your faith. It's FREE and now EASIER THAN EVER to Register!
 - Go to formed.org and click on sign up (only works in Chrome and Firefox).
 - Select  - I belong to a Parish or Organization.
 - Select your parish (using zip 98321 is quicker).
 - Register with your name and email address.
 - Check that email account for a link to begin.
 - Contact the office with questions.

---
During this time of the COVID-19 situation, please utilize our parish's subscription to FORMED.org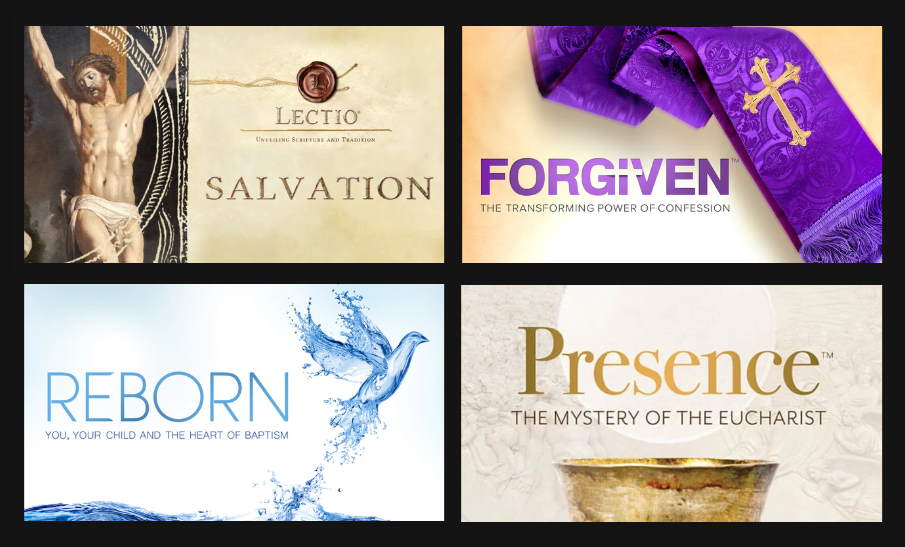 ---
ACA 2020

2019 ACA - Goal Exceeded!
Thank you to all parishioners for raising $34,474 in 2019 for the ACA. We received a rebate of $2,955. Our average pledge was $385!
Annual Catholic Appeal in the Northwest video message found here.
Witness talk videos:
Please make your pledge here...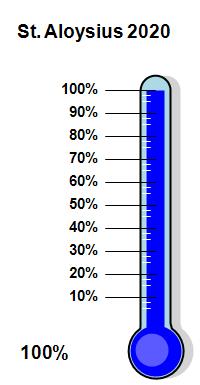 GOAL: $27,599.00
102% of Goal
57% Participation
Prayer for Spiritual Communion

My Jesus, I believe that you are present in the most holy Eucharist.  I love you above all things, and I desire to receive you into my soul.  Since I cannot at this moment receive you sacramentally, come at least spiritually into my heart.  I embrace you as if you were already there and unite myself wholly to you.  Never permit me to be separated from you.  Amen.

Q&A

---
Q. What do I do if I cannot go to confession or receive Holy Communion because of the Coronavirus?
A. In the circumstances of public Mass being suspended and Lenten penance services being canceled, there are devotions that enable you to receive forgiveness of your sins (under certain conditions) and the consolation of the grace of the Eucharist. These devotions have been encouraged by the church in times of great distress and have been practiced by the saints.
Our resource on Perfect Contrition & Spiritual Communion can be found and downloaded from here...

---
St. Aloysius Pray For Us!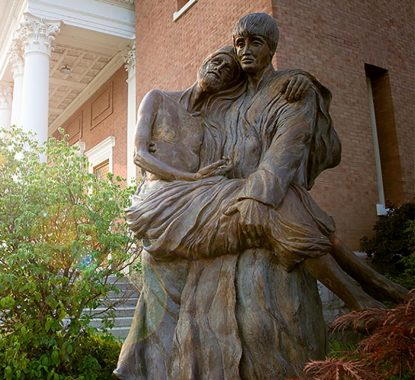 A statue of St. Aloysius Gonzaga carrying a plague victim in his arms is seen on the campus of Gonzaga University in Spokane, Wash. (CNS photo/courtesy Gonzaga University). Read more here...

---
Bells in Solidarity

To demonstrate our solidarity with everyone who is impacted by the coronavirus, we will ring the church bells at noon. At this time, we encourage you to pray the Angelus as a family in your homes and conclude with the prayer to Our Lady of Seattle.

The Angelus Prayer (English)
V.  The Angel of the Lord declared unto Mary.
R. And she conceived of the Holy Spirit.
Hail, Mary, full of grace, the Lord is with thee; blessed art thou among women, and blessed is the fruit of thy womb, Jesus. Holy Mary, Mother of God, pray for us sinners, now and at the hour of our death. Amen.
V. Behold the handmaid of the Lord.
R. Be it done unto me according to thy word.
Hail, Mary …
V. And the Word was made flesh.
R. And dwelt among us.
Hail, Mary …
V. Pray for us, O holy Mother of God.
R. That we may be made worthy of the promises of Christ.
Let us pray: Pour forth, we beseech thee, O Lord, thy grace into our hearts, that we to whom the Incarnation of Christ thy Son was made known by the message of an angel, may by his passion and cross be brought to the glory of his resurrection. Through the same Christ Our Lord. Amen.

---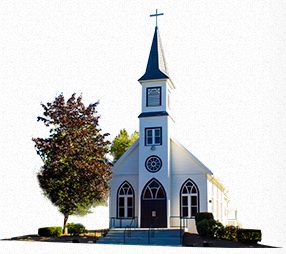 MASS SCHEDULE
Mass schedule has changed, see Mass registration information.
Tue - Fri - 8:30am
Sat - 5:00pm
Sun - 8:30am
Sun - 10:30am

Holy Days
8:30am & 7:00pm

First Friday
8:30am followed by Adoration until 8:00pm

Rosary
- Before weekday Mass
- Before Sat & Sun Mass
- Mon - 3:00pm

Reconciliation
Sat - 3:30pm - 4:30pm
By appointment ONLY

Address
211 West Mason Ave.
Buckley, WA 98321
Phone: 360-829-6515
Fax: 360-829-5190
Map it

Office Hours
Tue - Fri 9am - 12:00pm
---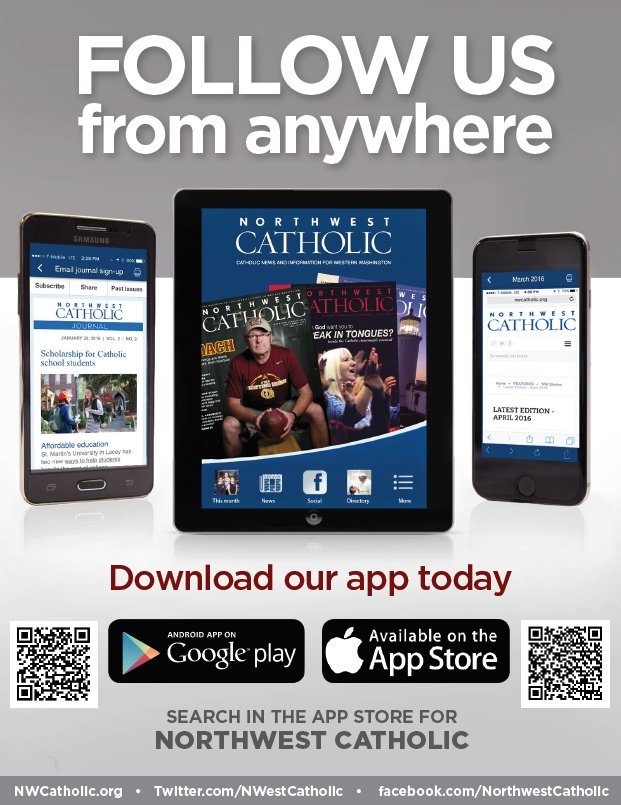 NORTHWEST CATHOLIC is a gift of faith to every registered Catholic household in Western Washington. If you are currently registered at our parish you will receive NORTHWEST CATHOLIC at no charge. Questions? Call 206-382-4850 or 1-800-473-5641.

---
CELEBRATING 125 YEARS!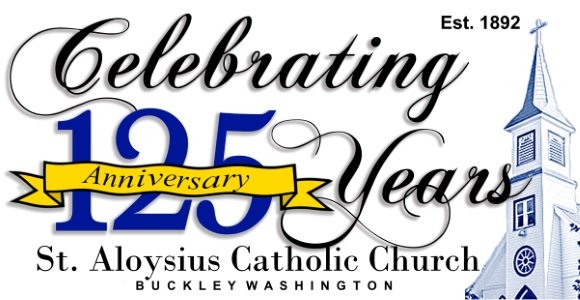 In 2017 St. Aloysius celebrated 125 years of religious service for Buckley, WA and its surrounding areas.

---
CALLED TO SERVE as CHRIST
CAMPAIGN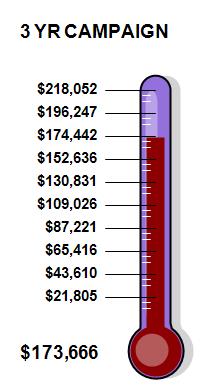 GOAL: $218,052.00
PLEDGED: $173,666.00
54% Participation
Potential Share $25,118
2018-2021
---
Got Amazon?
Use it, then part of your purchase is donated to our parish...

PARISH NEWS
Sign up to receive Parish News

This is kept private!
---
Recent Articles
Sep 28, 20 10:51 PM

St. Aloysius Catholic Church welcomes you to come and celebrate the Roman Catholic Mass and enjoy Catholic fellowship while growing in your Catholic Faith.

Sep 28, 20 10:23 PM

Catholic Homilies 2020 for St. Aloysius Catholic Church of Buckley, WA

Aug 06, 20 05:03 PM

Here choose your mass time preferences