CALLED TO SERVE as CHRIST Campaign is Underway

"The Called to Serve as Christ campaign is an expression of our deep gratitude to those who have gone before us, especially our bishops, priests, and religious sisters, for the tireless ways they have lived out their vocations for the Lord and for us." J. PETER SARTAINARCHBISHOP OF SEATTLE

The Called to Serve as Christ campaign is an extraordinary opportunity for all to play a role in strengthening the Catholic Church in Western Washington. This campaign will focus on raising $100 million to strengthen our priest pension and retirement medical plans, provide support to women religious serving or who have served in the Archdiocese of Seattle, and assist key efforts in our parishes.  
$100 million will accomplish the following:
To learn more about the Called to Serve as Christ campaign, its mission and goals, visit the official website.
Got Questions? Please go here to find the answers!
Called to Serve as Christ Campaign Update
Families at St. Aloysius Parish have raised $173,486.00 toward our campaign goal of $218,052.00 with 54% participation. These generous gifts come from 73 of our registered families. If you have yet to participate in this important effort, please go online to www.calledtoserveaschrist.org to learn more and donate.
As part of the campaign, the parish receives 15% of what it raises towards needs we identified here at the parish. As of last quarter ending on December 31, 2018, our parish has received $8,058.90 in parish share payments. We plan to use this money to continue progress on our maintenance plan.
We thank those who continue to make on time payments to their pledge. Because of you our plans can continue to stay on schedule.
Contact the parish office if you have any questions.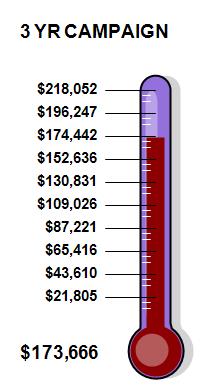 GOAL: $218,052.00
PLEDGED: $173,666.00
54% Participation
Potential Share $25,118
2018-2021
---
Home > Called to Serve as Christ Campaign