CALLED TO SERVE as CHRIST Campaign Continues


CURRENT APPEAL MESSAGE FROM ARCHBISHOP ETIENNE

"The Called to Serve as Christ campaign is an expression of our deep gratitude to those who have gone before us, especially our bishops, priests, and religious sisters, for the tireless ways they have lived out their vocations for the Lord and for us." J. PETER SARTAIN ARCHBISHOP EMERITUS OF SEATTLE

The Called to Serve as Christ campaign is an extraordinary opportunity for all to play a role in strengthening the Catholic Church in Western Washington. This campaign will focus on raising $100 million to strengthen our priest pension and retirement medical plans, provide support to women religious serving or who have served in the Archdiocese of Seattle, and assist key efforts in our parishes.  
$100 million will accomplish the following:
To learn more about the Called to Serve as Christ campaign, its mission and goals, visit the official website.
Got Questions? Please go here to find the answers!
Called to Serve as Christ Campaign Update
Our parish has pledged $174,246 toward our campaign goal of $218,052 to the Called to Serve as Christ pilot campaign starting in 2018. We are receiving 15 percent of the funds raised to accomplish our many maintenance goals. As of June 30, 2020 we have received $18,365.
Thank you for continuing to fulfill your pledge!

Though our parish has already participated in the campaign, the campaign continues around the Archdiocese. It isn't too late to make a gift. Maybe you were not in a position to pledge when our parish wave took place in 2018. Maybe you pledged but are in a position now to increase your gift. Maybe you are a new parishioner and new to the archdiocese and this is the first opportunity you have had to contribute.

Please consider the sacrifice countless men and women have made in dedicating their lives to the gospel and to bringing us the inestimable gift of the Catholic Faith. Can you give something in return?

Go here to make a payment on your pledge or for more information, visit: www.calledtoserveaschrist.org
Contact the parish office if you have any questions.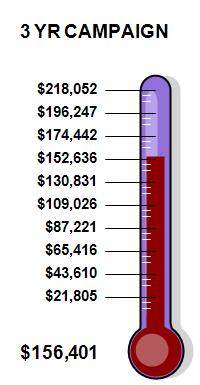 GOAL: $218,052.00
PLEDGED: $175,496.00
2018-2021
---
Home > Called to Serve as Christ Campaign