---
---
Welcome Fr. Anh - Our New Priest Administrator
If you have a prayer request, please go here and it will be presented to the priest so he can remember your request in his private mass.
CALLED TO SERVE as CHRIST
CAMPAIGN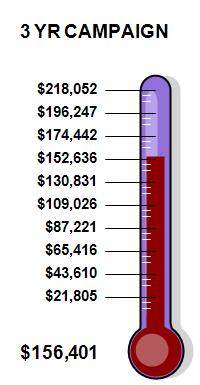 GOAL: $218,052.00
PLEDGED: $175,496.00
2018-2021
Thank you for pledging $175,496 towards our GOAL of $218,052.00. Total cash received towards goal our is 72%, $156,401.00. St. Aloysius has received 15% of this amount, and once we reach the GOAL, our rebate will increase to 85%! Thank you for your generosity and for continuing to make donations to fulfill your pledge. You may make a new donation at any time by going here…

---
YOU can be part of the solution when you apply to lead your community in 40 days of prayer & fasting, community outreach, and peaceful vigil in front of your local abortion business as part of the September 22 - October 31 40 Days for Life vigil: 40daysforlife.com/apply
Former abortion workers report that when somebody prays in front of an abortion facility, the no-show rate for abortion appointments goes as high as 75%!
He will use you if you let Him.

---
FORMED.org
The Catholic Faith on Demand

(only works in Chrome, Firefox, MS Edge)
During this time of the COVID-19 situation, please utilize our parish's subscription to FORMED.org

FORMED.org is a revolutionary online platform that provides access to the best Catholic audio talks, movies, ebooks, and video based studies from trusted providers like the Augustine Institute, Ignatius Press, Catholic Answers, the Knights of Columbus, St. Paul Center, Sophia Press and more!
We are excited to announce that our parish has subscribed to an exciting new online platform. Create a personal account and start enjoying the best Catholic content all in one place!  Catholic Content including movies, lectures, books children's' programming and more - and It's Free!
FORMED.org provides amazing content 24/7 for you to grow in your faith. It's FREE and now EASIER THAN EVER to Register!
 - Go to formed.org and click on sign up (only works in Chrome, Firefox, and MS Edge).
 - Select  - I belong to a Parish or Organization.
 - Select your parish (using zip 98321 is quicker).
 - Register with your name and email address.
 - Check that email account for a link to begin.
 - Contact the office with questions.
MOVIE SUGGESTIONS ON FORMED

---
---
St Francis De Sales: Character of a Christian (4-Part Series)
In this four-part series, Dr. Ben Akers and Dr. Christopher O. Blum sit down to discuss St. Francis de Sales, his best known work The Introduction to the Devout Life, and the character of a christian revealed through his life's witness and writings. We hope you enjoy this new series on an incredible counter-reformation saint who truly is a gift of God to the universal Church and from whom we can learn much today. Go here...

---
Presence: The Mystery of the Eucharist
Although the Eucharist appears to be simple bread and wine, it is actually the "source and summit" of the Christian life. Presence: The Mystery of the Eucharist explores the truth and beauty of Christ's real presence in the Eucharist, from its origins in Sacred Scripture, to its profound role in the life of the Church and her members. Go here to see the crescendo of the entire story of salvation.

SUGGESTIONS FOR THE WEEK
FORMED Now! Our Mother Mary
Dr. Ben Akers sits down with Dr. Mark Miravalle, Saint John Paul II Chair of Mariology at Franciscan University of Steubenville, to discuss Mary, the Mother of God. What is Mariology? How does Mary serve as model for all the faithful? How can we relate to Mary today? What does it mean to say that Mary is the Mother of the Church? Was Mary free in her earthly life? Go here to find the answers...

Dr. Ben Akers and author Sarah Christmyer discuss the need for prayer in desperate times and how scripture can be a critical instrument in cultivating a fruitful prayer life when life is difficult. Watch video now...

---
Archbishop Etienne Blog
Preaching is a priority to Archbishop Etienne's episcopal ministry. His blog is an effort to engage and serve you, God's faithful people. Enjoy your visit! https://www.archbishopetienne.com/
Please go here to read the recent Pastoral Letter from Archbishop Etienne - The Work of Redemption, Eucharistic Belief and Practice in the Archdiocese of Seattle
Pray the Rosary with the Archdiocese of Seattle from Archdiocese of Seattle
Please visit the Northwest Catholic pertaining to Archbishop Etienne voting against U.S. bishops' proposed document on the Eucharist


---
---
St. Aloysius Pray For Us!
A statue of St. Aloysius Gonzaga carrying a plague victim in his arms is seen on the campus of Gonzaga University in Spokane, Wash. (CNS photo/courtesy Gonzaga University). Read more here...

---
NORTHWEST CATHOLIC is a gift of faith to every registered Catholic household in Western Washington. If you are currently registered at our parish you will receive NORTHWEST CATHOLIC at no charge. Questions? Call 206-382-4850 or 1-800-473-5641.

---
CELEBRATING 125 YEARS!
In 2017 St. Aloysius celebrated 125 years of religious service for Buckley, WA and its surrounding areas.

---
---
Got Amazon?
Use it, then part of your purchase is donated to our parish...

Sign up to receive Parish News

This is kept private!
---